Parboiling and Drying Plants
Standard manual process, Semi-automatic process and 100% parboiling automatic plants.
Capacity – 50TPD to 1000TPD
What is Parboiling?
The process of wetting, heating, the steaming and drying of paddy is called parboiling (Partial Boiling/ Pre-cooked). The process is to produce physical and chemical modifications in the cereal with economic, nutritional, and practical advantages.
● Lower brokens than raw rice
● Low free fatty acids in rice bran
● Higher oil content in rice bran
Parboiling plants with manual process, Semi-automatic process and 100% parboiling automatic plants.
Capacity – 20TPD to 1000TPD
Parboiling Processes:
I. Single Stage Single Steaming
Ii. Single Stage Double Steaming
Iii. Three Stage Double Steaming
Iv. Steam Rice
V. Puffed Rice (Muri/ Murmura)
Latest Process Technology
– Continuous Pre-Steamers
– Continuous Cookers
– Automatic steam Plants
– Husk Fired Furnace for both Raw and parboiled paddy.
– Only company to offer single furnace for 5 dryers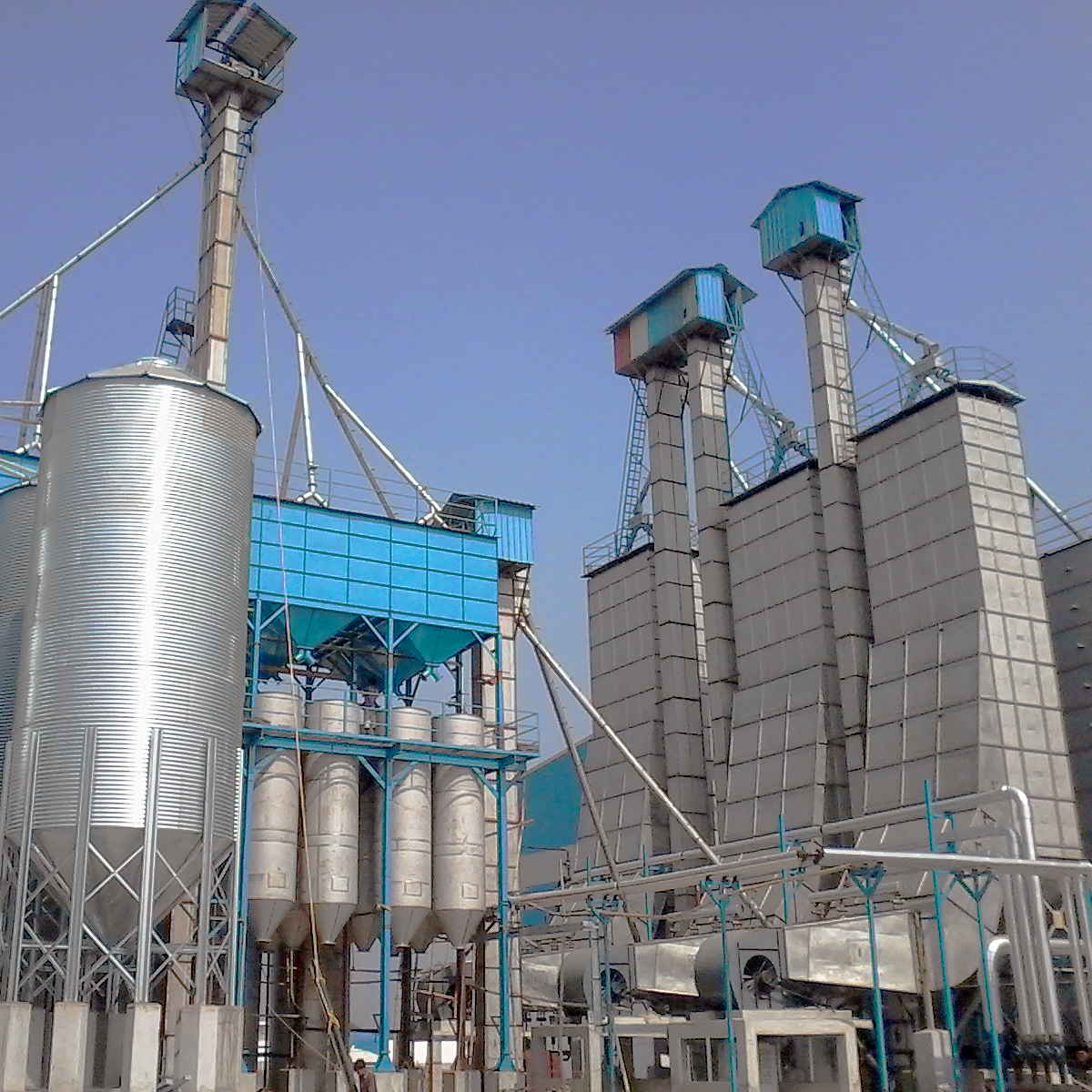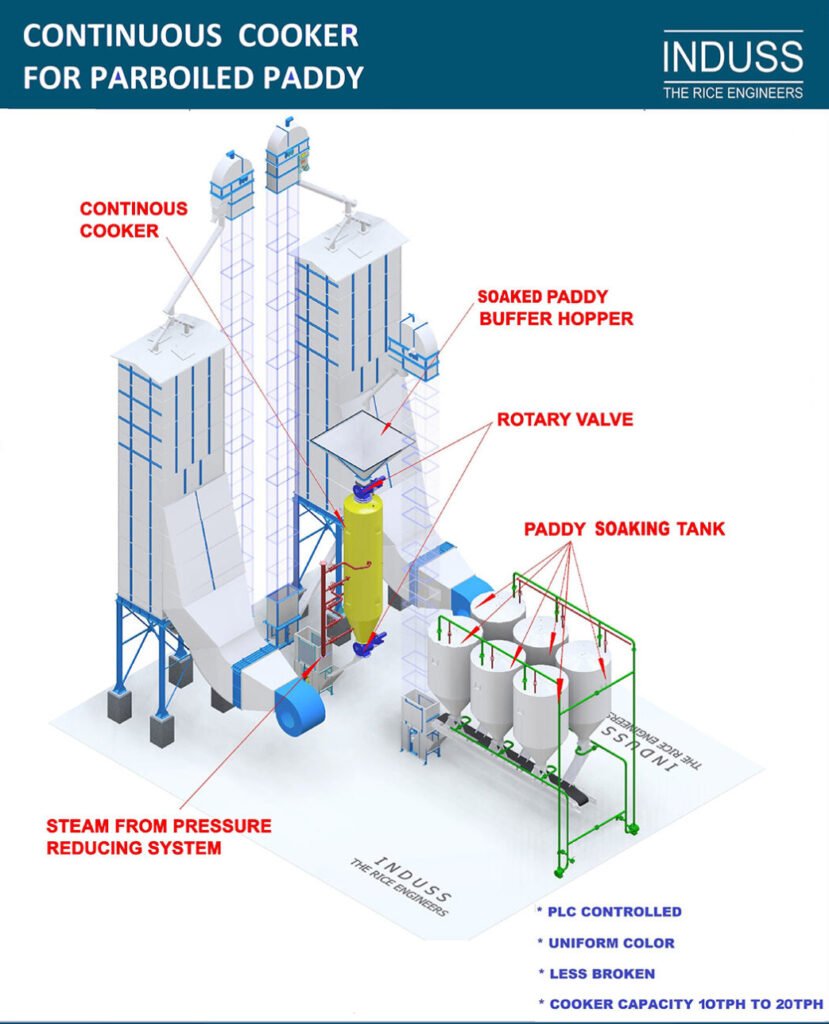 Steam Rice - Steaming and Drying Plants
100% automatic plants with PLC controls and continuous cookers.
Muri (Puffed Rice) processing and drying plant
Induss has installed its first '100% Automatic Plant' with PLC controls of pressure, temperature, timings etc. The resultant 'Muri' is uniform in colour, equal length, crispy and lighter in volume.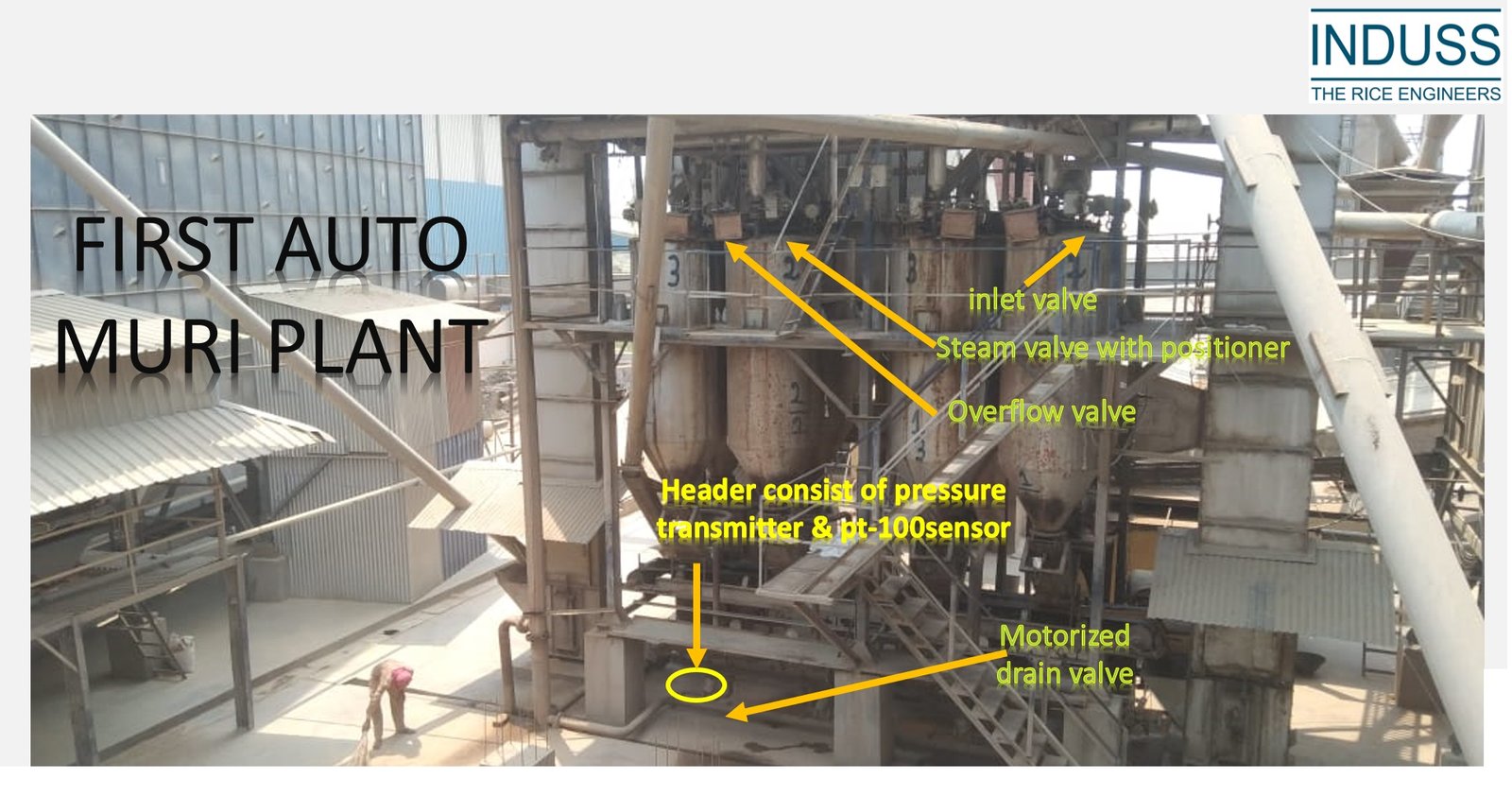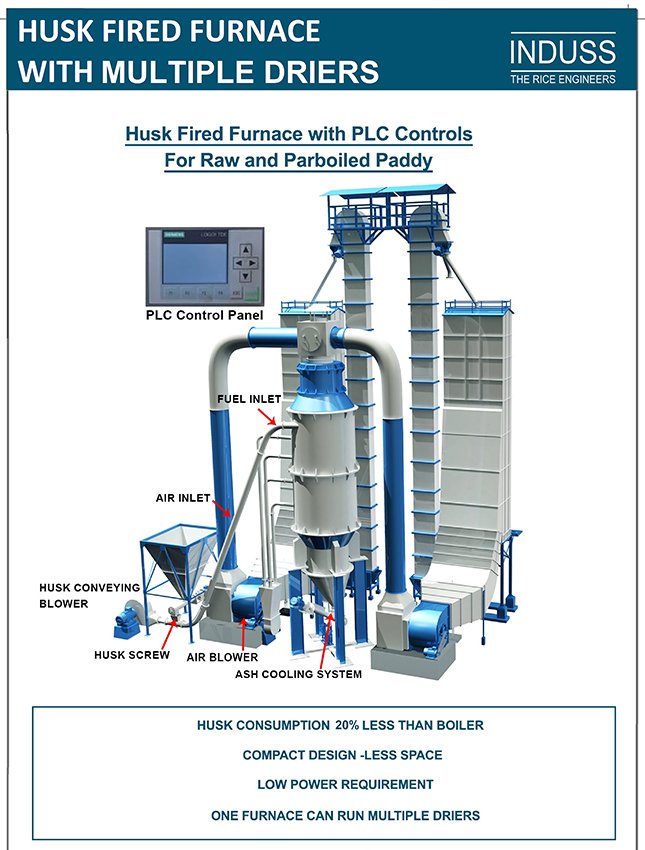 Husk Fired Furnace for Raw and Parboiled paddy
Totally automatic husk feeding, temperature-controlled furnace. Reduces husk consumption by 20% over Boilers. No chimney or boiler registration. Husk burning by the cyclone method is more efficient. Cold grey color ash.
One Furnace can operate 5 dryers.
Cooker with PLC controls
To pre steam and post steam parboiled paddy and also to make steam rice. The flow of paddy, steam and temperature is controlled through a PLC and PRS system. This reduces brokens in final rice and improves the cooking quality.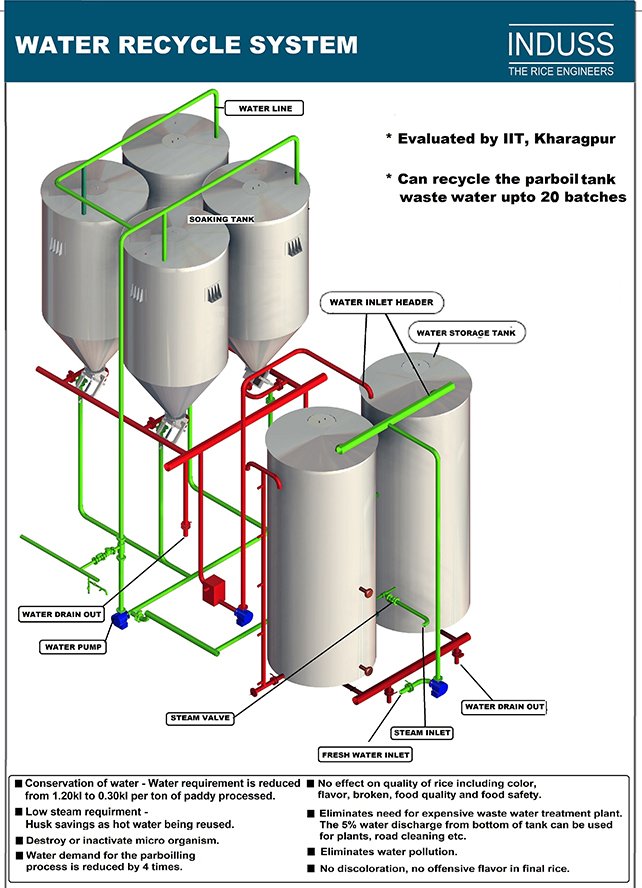 Water Recycle System
Discharged water from the parboiling tanks is recycled back at least 30 times. This leads to saving 70% of fresh water and millions of liters annually per Rice Mill.
The WRS technology by Induss has been evaluated by IIT-Kharagpur and approved by Karnataka Council for Technological upgradation (KCTU)
No change in colour, smell, brokens and food safety.
Semi-Automation System for soaking tanks - PLC controlled
This process (continuous circulation of water) reduces the soaking time by 40% ensures uniform temperature during soaking. This results in uniform colour, faster
drying and saving of husk and electricity.
The Semi-Automation System gives 3 batches per day against 2 batches of standard parboiling system.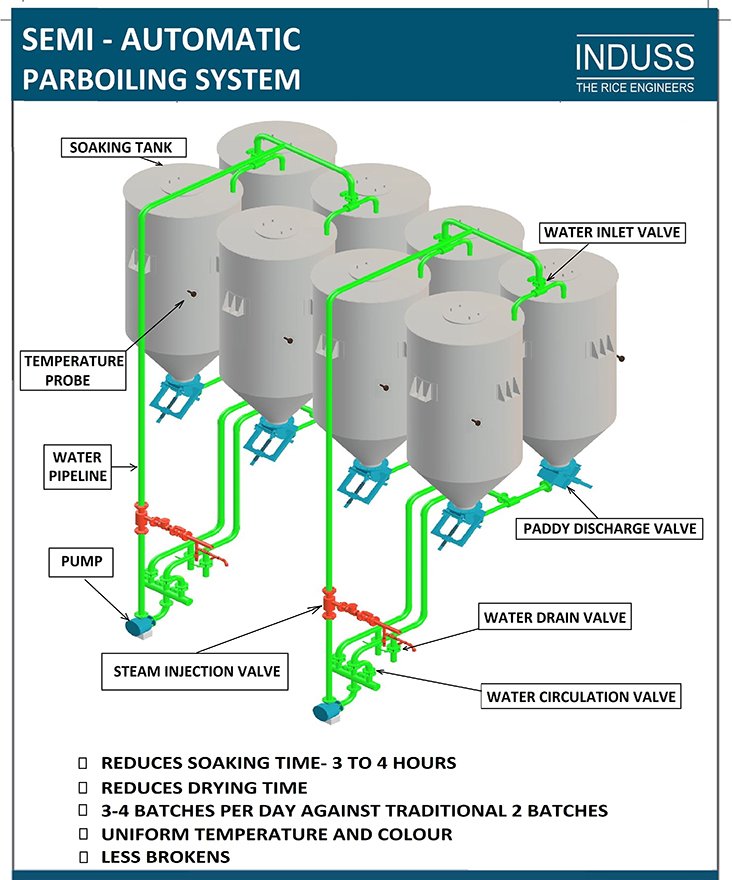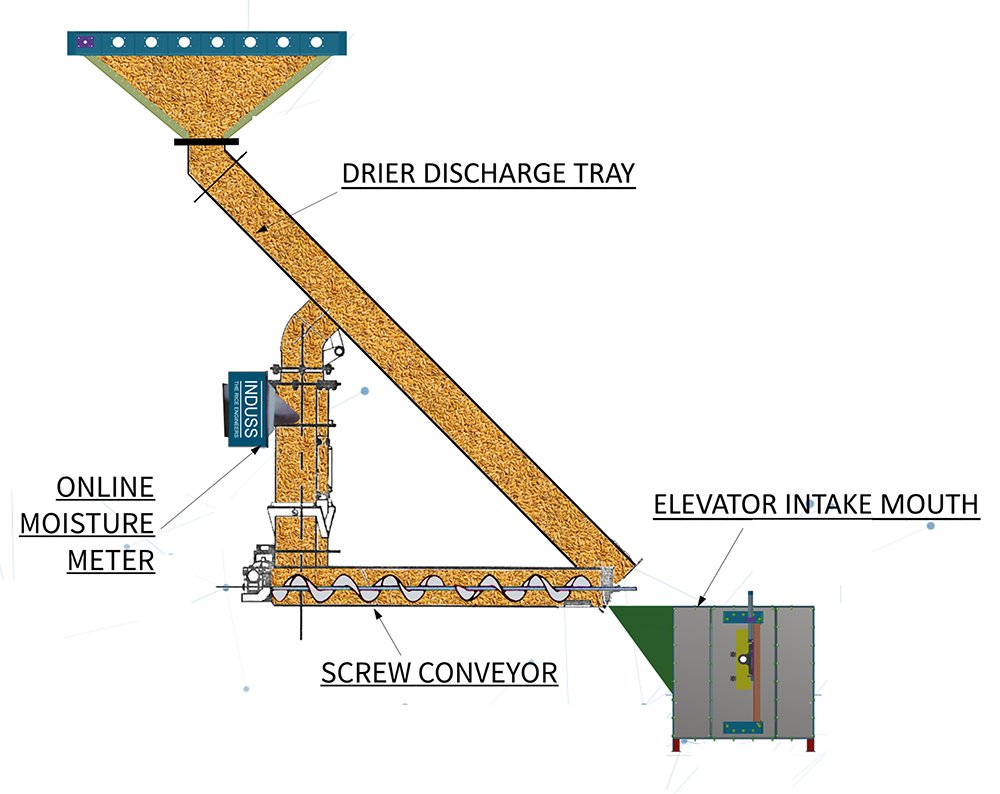 Online Moisture Meter - PLC controlled
This process continuously records the moisture of the paddy while drying and cuts off steam at a fixed pre-set moisture. No variation in moisture from batch to batch.
The steam flow is linked to the moisture and gets reduced automatically
The data can be accessed from anywhere on Mobiles using cloud technology.
Online Flow Meter - PLC controlled
This is used to continuously to weigh paddy/rice during process using load cells.
PLC and HMI ensure the display of total weight, batch weight and same can be reset from HMI. It also has an Alarm logging.
Data Monitoring can be remotely done from laptop or mobile.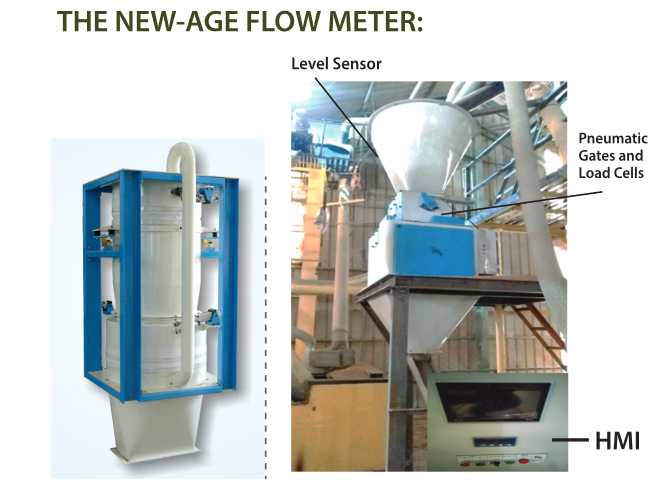 Mini Parboiling and Drying Plants
Induss has introduced Mini Parboiling & Drying Plants to modernize the traditional huller units. These Mini Plants have a capacity 8-12 tons per day.
Digital Grain Moisture Meter [Portable]
Can measure moisture content of paddy, brown rice, polished rice. Automatic calculation of average moisture content.