Parboiling and Drying Plants
Standard manual process, Semi-automatic process and 100% parboiling automatic plants.
Capacity – 50TPD to 1000TPD
What is Parboiling?
The process of wetting, heating, the steaming and drying of paddy is called parboiling (Partial
Boiling/ Pre-cooked). The process is to produce physical and chemical modifications in the
cereal with economic, nutritional, and practical advantages.
● Lower brokens than raw rice
● Low free fatty acids in rice bran
● Higher oil content in rice bran
Parboiling Processes:
I. Single Stage Single Steaming
Ii. Single Stage Double Steaming
Iii. Three Stage Double Steaming
Iv. Steam Rice
V. Puffed Rice (Muri/ Murmura/ Churmura etc.)
Latest Process Technology
– Continuous Pre-Steamers
– Continuous Cookers
– Automation
– Husk Fired Furnace
– Three batches of Parboiling from one plant in 24 hours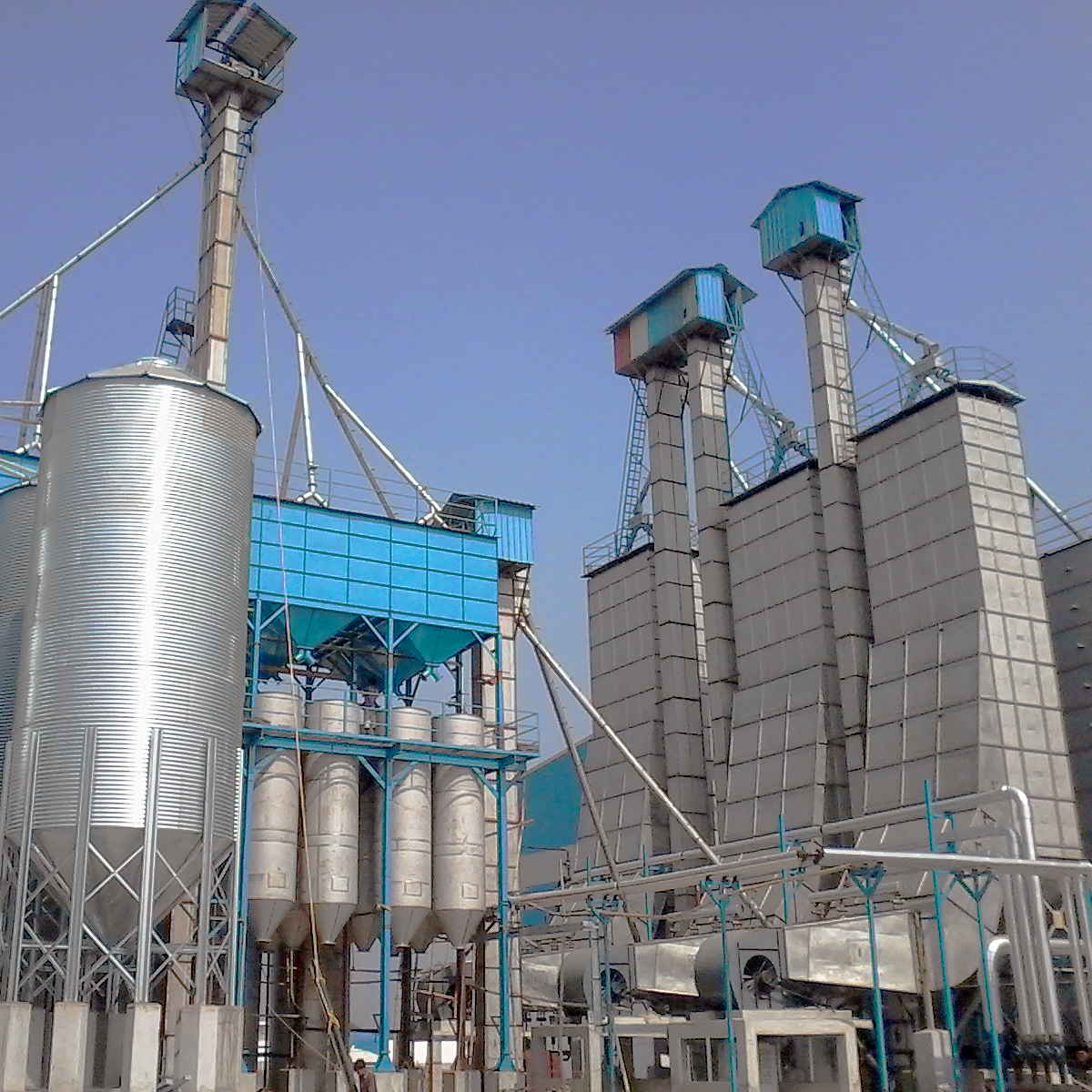 Steam Rice - Steaming and Drying Plants
Standard manual process, Semi-automatic process and 100% Steaming
automatic plants. Capacity – 50TPD to 500TPD
Muri (Puffed Rice) processing and drying plant
Around 2020, Induss has installed its first '100% Automatic Plant', and the result has been remarkable and much superior to manual operations. We are already experiencing a major shift in the market from 'manual to automatic'. Induss is the only brand to make 100% automatic plants.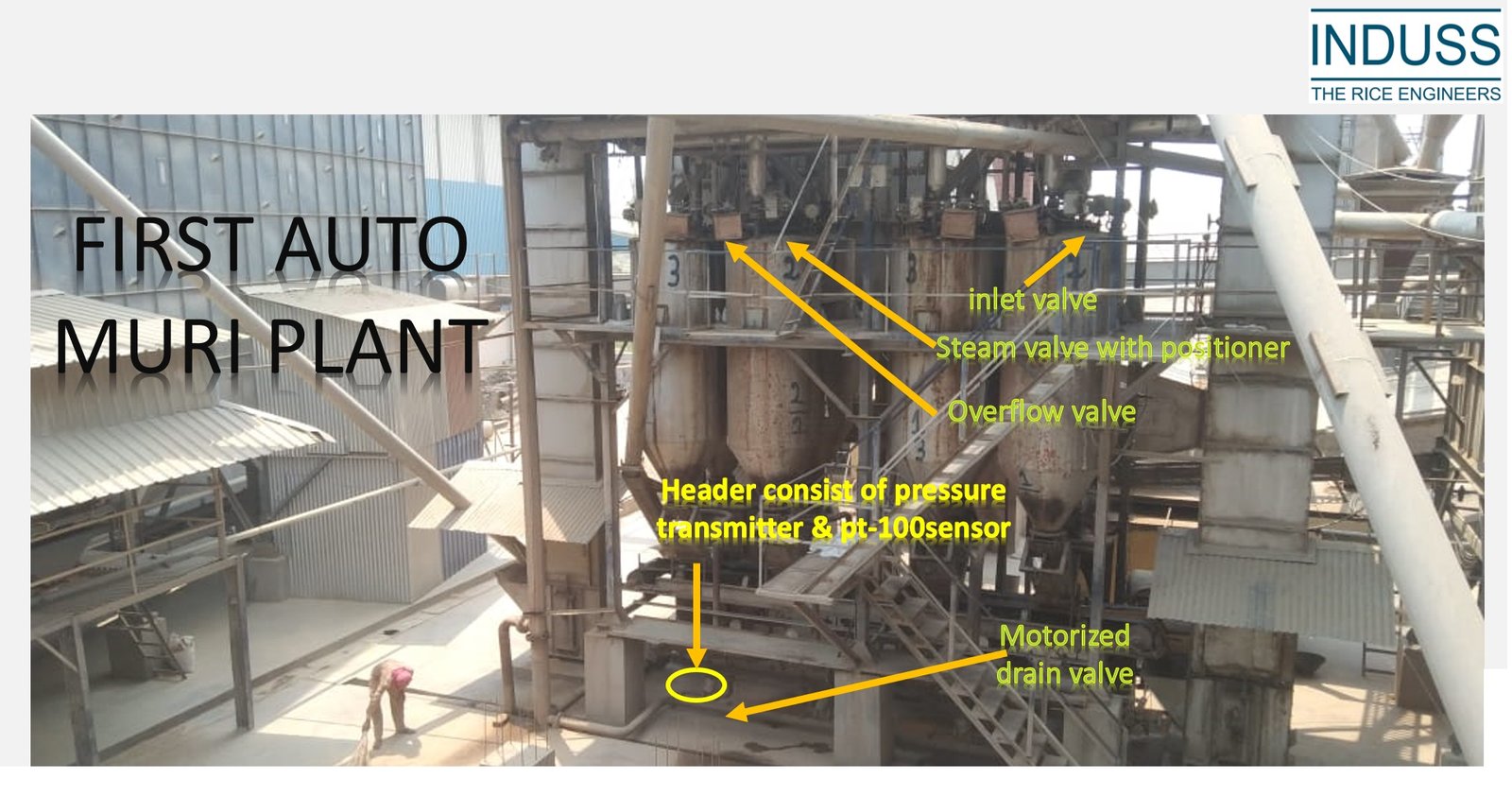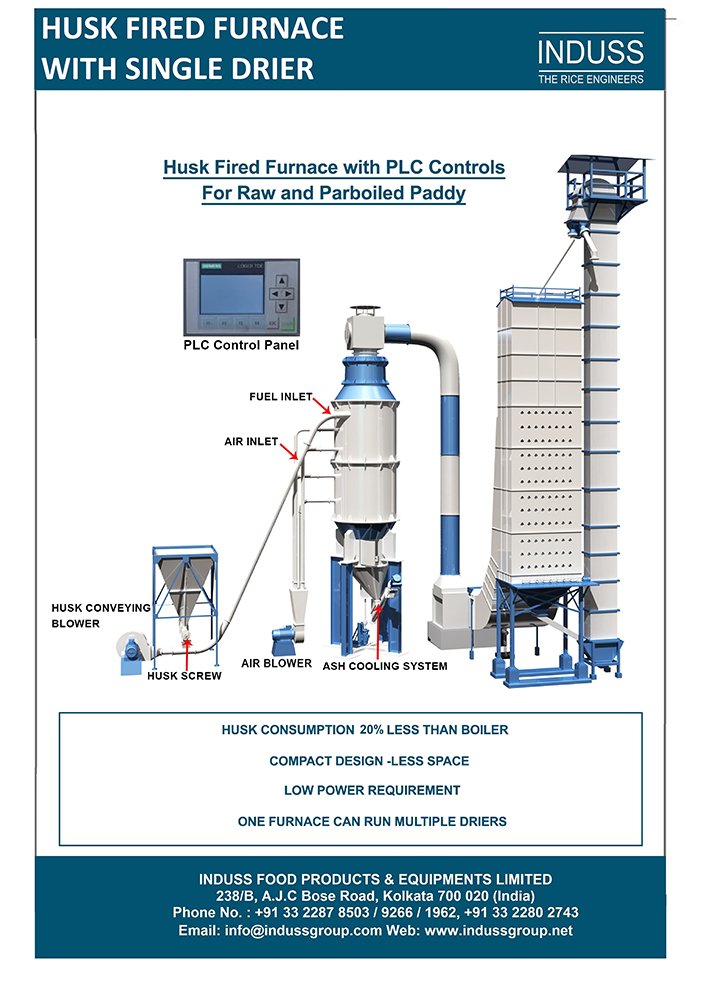 Husk Fired Furnace
Completely automatic of various capacities. One Furnace can operate 4 dryers. For both parboiled paddy and raw/steam paddy dryers. Induss is the only brand to make Furnaces which operate Multiple Dryers.
Raw Dryers with Husk Fired Furnace
From capacity 16 tons per batch to 75 tons per batch. Induss is the only brand to make Furnaces which operate Multiple Dryers.
Cooker with PLC controls
Used to pre steam and post steam parboiled paddy. Used to make steam rice. The flow of paddy, steam and temperature is controlled. This reduces brokens in final rice, improves the cooking quality and also brings the shine on the rice.
Water Recycle System
It is the latest revolution in Rice Mill Industry that ensures 70% savings of water.
In standard 300 Tonnes per day rice producing mills, water saved through WRS treatment is 64 million litres (approx.). Resulting to a total saving of 32 lakhs (approx.)
The WRS technology by Induss has been evaluated by IIT-Kharagpur and certified by Government of Karnataka.
It eliminates need for expensive waste water treatment plant. The 5% water discharge from bottom of tank can be used for plants, road cleaning etc.
No effect on quality of rice including colours, flavours, broken and food quality and food safety.
To naturally reuse parboiling tank waste water for 50-70 batches. Saving of millions of litres.
Induss is the only brand that makes this Water Recycle System.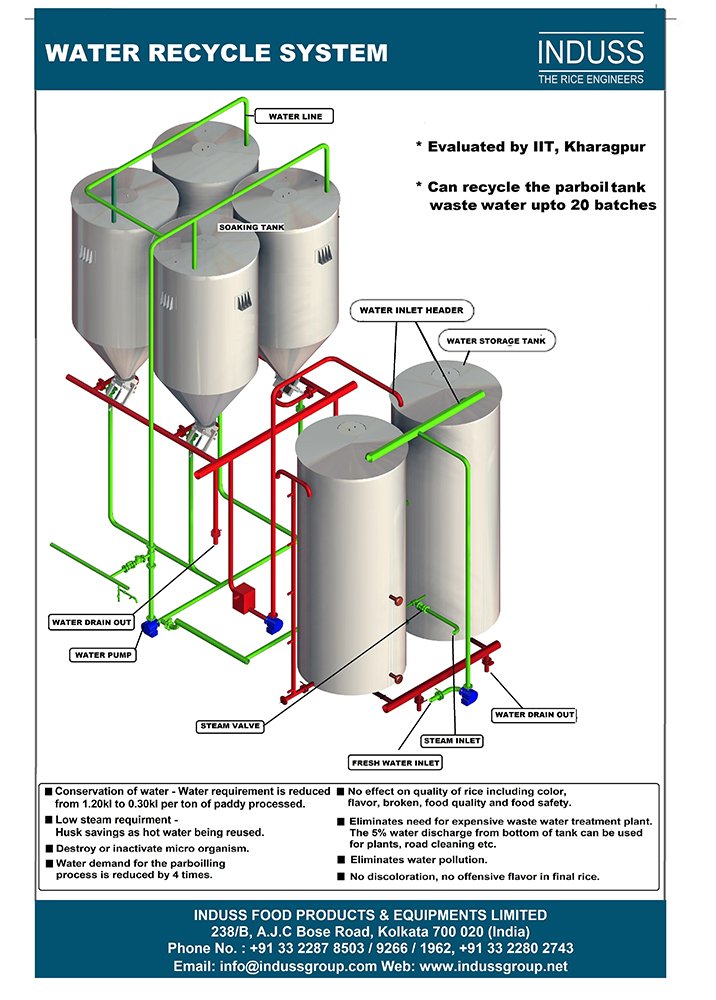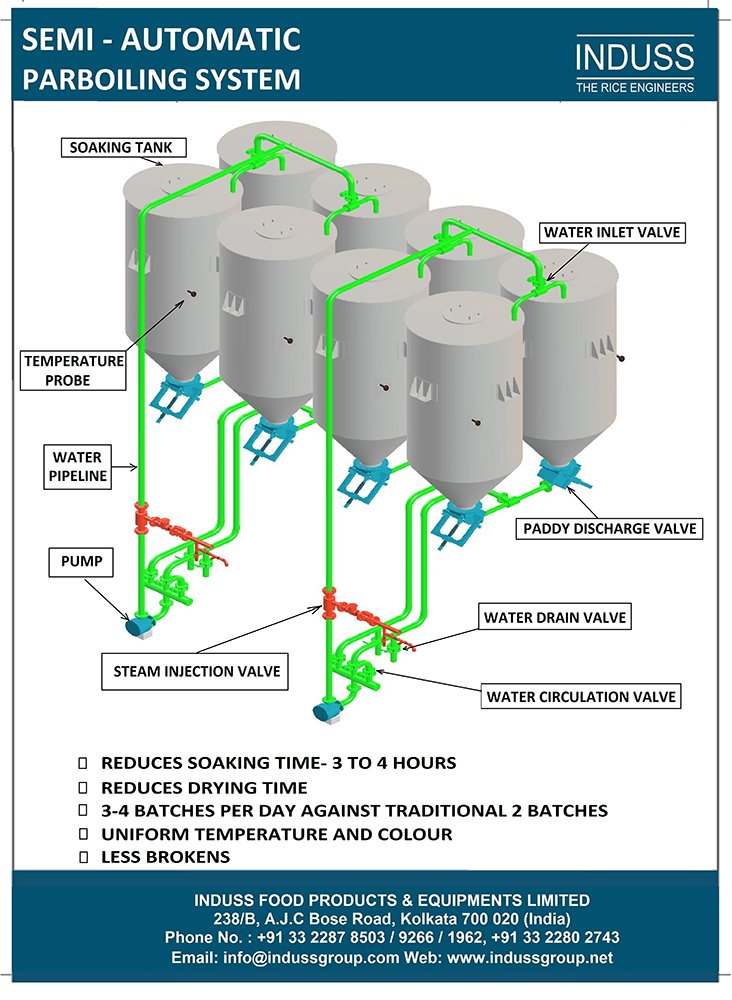 Semi-Automation System for soaking tanks - PLC controlled
This process reduces the soaking time, uniform temperature during soaking, soaking moisture reduced compare to traditional system. This results in uniform colour, faster drying. It also saves husk fuel and electricity.
Online Moisture Meter - PLC controlled
This process measures the moisture while drying and cuts off at a fixed set moisture. No variation in moisture from batch to batch.
Advantages:
Steam cuts off at set moisture
No manual intervention
Accuracy of measurement
As per moisture requirement dryer can be stopped
Loss due to over drying can be prevented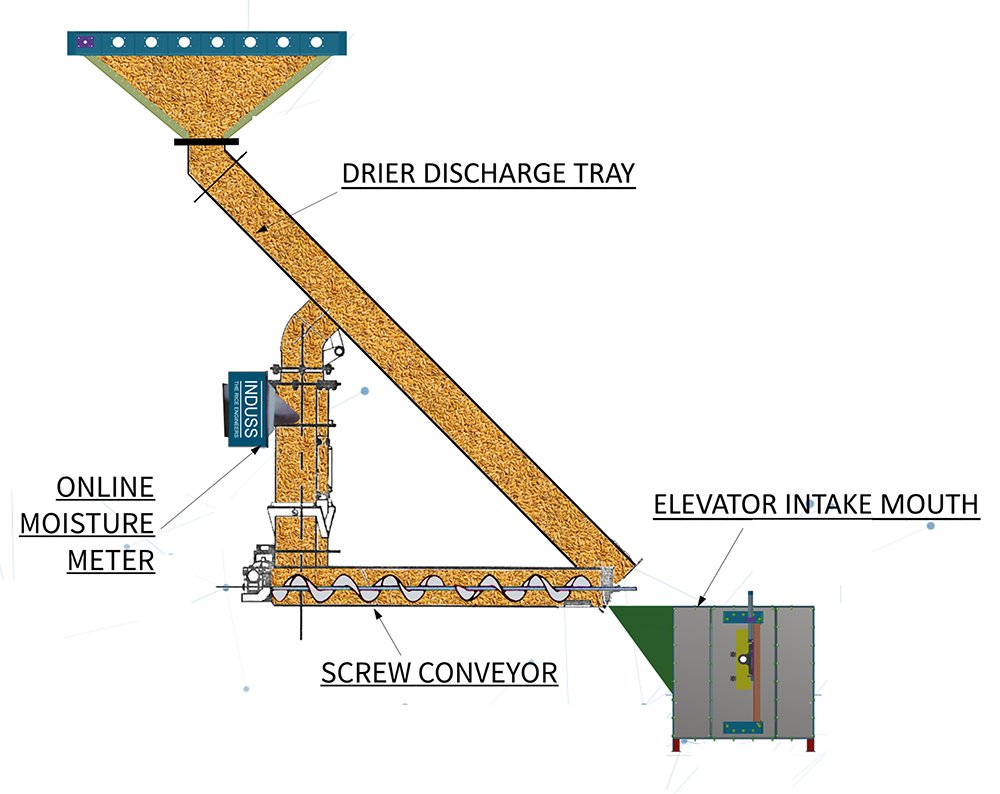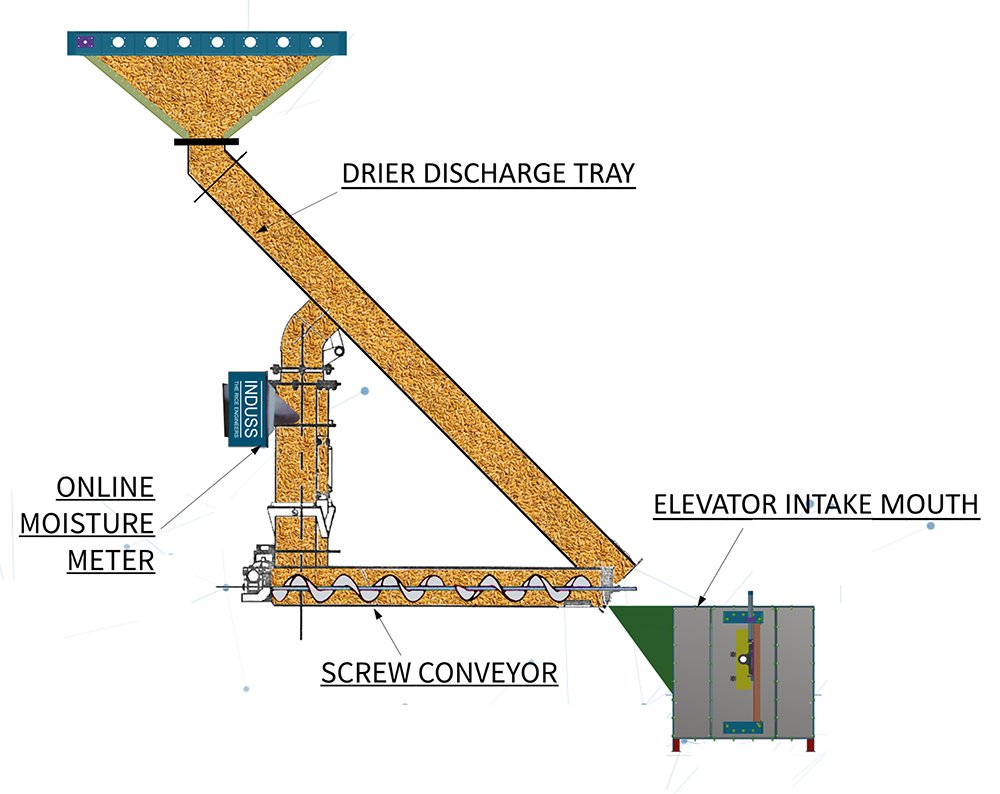 Online Flow Meter - PLC controlled
It is an online flow measuring system with accuracy and reliability with adjustable fast pneumatic gates for coarse and fine feed to get accurate flow.
PLC and HMI ensures the display of total weight, batch weight etc. and same can be reset from HMI. It also has an Alarm logging.
Data Monitoring can be remotely done from laptop or mobile.
Mini Parboiling and Drying Plants
Capacity 20 tons per day. There are more than 25,000 huller traditional mini units. Induss aims to modernize the units with same or higher capacity.
Digital Grain Moisture Meter
Direct measurement of moisture content of paddy, brown rice, polished rice,
No adjustment required even if the variety of grains to be measured or ambient temperature change.
Automatic calculation of average moisture content.
Clear L.C.D. display. The figures are clear and easily read